Google Maps support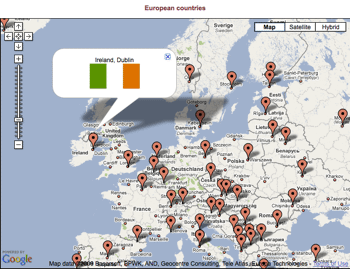 Creating a Google Maps mashup from your data is easy. You can generate the map based on your data with just a single command.
Simple way to visualize location of your customers, suppliers etc.
Directly from your data
Mashups can be created directly from the database based on addresses or latitude/longitude data.
Using the familiar Google Maps interface, user can get more information on the map by clicking the pins.
The bubbles behind the pins can contain any information you desire. All done on single query.
Autozoom
When mashup map is generated the map is automatically zoomed to contain the selected pins.
Full source code available
Want more? Want to implement additional things? Feel free. Google Maps Mashup is implemented using myDBR's extension architecture,
so full source code is included.